Chili Pepper
Jalapeno Chili
Scoville Scale
2,500 to 8,000
Color
Red/green
Shape
 ?
The Jalapeno chili is a medium to large size chili pepper. The Jalapeno chili originates from Mexico. Most Jalapenos are grown in Mexico, New Mexico, and Texas.
Scoville Rating
Edit
The Jalapeno Scoville rating ranges from 2,500 to 8,000 units.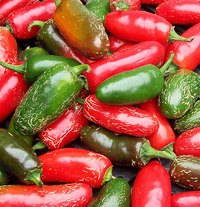 Ad blocker interference detected!
Wikia is a free-to-use site that makes money from advertising. We have a modified experience for viewers using ad blockers

Wikia is not accessible if you've made further modifications. Remove the custom ad blocker rule(s) and the page will load as expected.