Chili Pepper
Habanero Chili
Scoville Scale
100,000 to 350,000
Color
Orange/red/brown
Shape
 ?
The origins of this chili pepper are unknown, but many speculate it was originated in the Yucantan Peninsula. Common colors of this chili are: orange, red, and brown.
Scoville Rating
Edit
The Scoville Rating of Habanero peppers range from 100,000 to 350,000 units.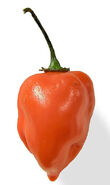 Ad blocker interference detected!
Wikia is a free-to-use site that makes money from advertising. We have a modified experience for viewers using ad blockers

Wikia is not accessible if you've made further modifications. Remove the custom ad blocker rule(s) and the page will load as expected.